CARBSE Visiting Scholar Program (2023 – 24)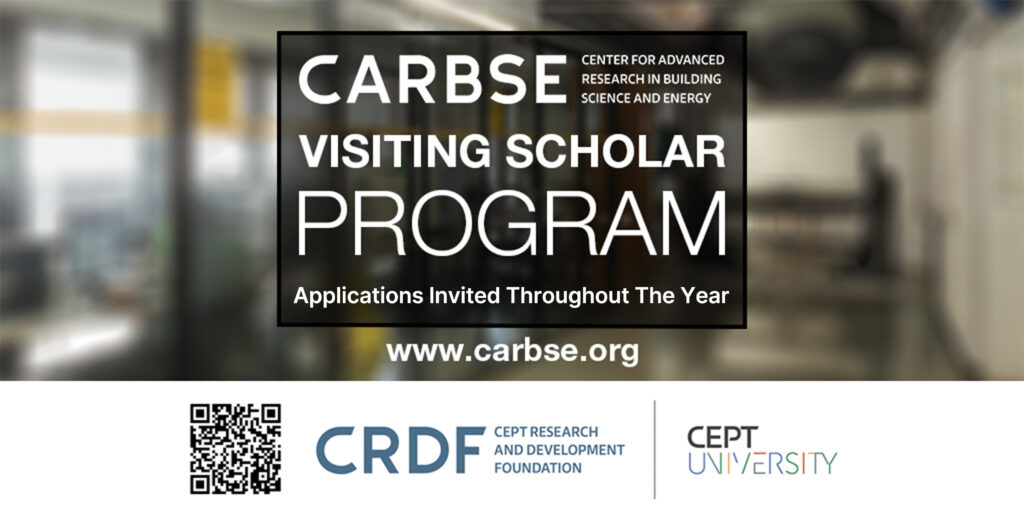 Centre for Advanced Research and Building Science and Energy (CARBSE), CRDF strives to achieve excellence in the area of Habitat and Energy. CARBSE is a part of CEPT University and has been functioning under the aegis of CEPT Research and Development Foundation for the last fifteen years. CARBSE carries out in-depth research in the fields of energy-efficient building design, energy efficient building construction, environment-friendly construction materials, along with resource audit and management. CARBSE operates out of a Net Zero Energy Building and has developed a state-of-art laboratory to develop innovative solutions for high performance buildings, specific to thermal comfort, along with affordable materials, construction, and low energy cooling technologies. Currently, CARBSE has active research collaborations with researchers located in Australia, Germany, United Kingdom, United States of America and South Asia.
The aim of the CARBSE Visiting Scholar program is to provide a platform to enhance knowledge in the field of Building Energy Performance through envelope and HVAC systems, Net-Zero Energy Buildings, Thermal Comfort, Urban Energy, Information Technology in buildings, and similar emerging areas. CARBSE Visiting Scholar Program is for in-service professionals, practicing professionals (architects/engineers), senior academicians or early career researchers who have a background in conducting research and are willing to participate in the research activities of CARBSE. The program will span between three (3) months minimum to twelve (12) months. The visiting scholar is expected to conduct research in the focus areas of CARBSE resulting in the journal publication, guidebook, teaching content, tools and techniques.
The program consists of:
Up to 12 months of formal research engagement in collaboration with senior team members of CARBSE and CEPT University.
Engaging up to two positions of visiting scholar (one academic researcher and one in-service professionals (architect/ engineers)).
Opportunities to pursue creative and deep research using the state-of-art research infrastructure.
Attendance of periodic meetings, workshops, and conferences to develop scientific rigour and career advancement.
Opportunity to engage in the academic activities of the CEPT University.
A monthly stipend will be commensurate to the profile of the applicant and research proposal.
The research focus and duration can be developed in consultation with CARBSE senior members.
Work location will be CARBSE, CEPT University, K.L. Campus, Navarangpura, Ahmedabad.
As part of the CARBSE visiting scholar program, you will:
Be able to pursue forward-looking and innovative research to develop solutions for building and cities to meet or exceed decarbonization.
Be able to disseminate and publish research outcomes.
Have the opportunity to assist in mentoring and guiding students as well as research interns.
Bring international research experience to CARBSE as well interact with national and international researchers working the domain.
Receive the opportunity to develop potential long-term research collaborations in India.
Experience and Required Skills:
Doctoral degree in a relevant subject area or with an equivalent experience in the relevant fields.
A feasible research project in the proposed timeline.
Experience in developing analytical skills and methods.
Excellent written and oral communication skills along with the ability to publish peer-reviewed publications.
Application Details:
Applications for the CARBSE Visiting Scholar Program are now accepted all throughout the year.
The application should include: (1) Full academic CV, (2) Two letters of recommendations, (3) Research proposal (maximum of four pages) outlining the research project intended to be pursued at CARBSE.
The proposal must include background of the proposed subject (maximum of 500 words), need for the study (maximum 250 words), aims and objectives (maximum of 150 words), research methodology (maximum of 500 words), expected outcome (maximum of 250 words), envisaged impact (maximum of 150 words), timeline, and resource requirements. The applications will be selected based on the overall merit.
Please email your application in a single PDF (of less than 15 MB size) to carbse@cept.ac.in. The receipt of the application documents will be acknowledged within two working days. The selected candidate will be informed within three months from application.
For more details email: ashajoshi@cept.ac.in, carbse@cept.ac.in